HDL – the painting professionals is Auckland's leading painting and decorating company founded in 1980. HDL has been providing painting, repairing, maintenance and restoration solutions for over three decades. HDL has a history of over 30 years of successfully completing various residential and commercial projects across Auckland.
With vast experience in the painting industry, HDL's workmanship is second to none and guaranteed. HDL's crew of commercial and residential painters are certified, highly skilled craftsmen, work efficiently and know what is expected. At HDL, quality is always a top priority. HDL consistently devises and implements a strict Quality Assurance and Quality Control programme to ensure every project is delivered using premium products and solutions without compromising on quality.
HDL takes great pride for its consistent good work ethic, attention to detail and work excellence that has gained its reputation in the industry.
Our Mission
To provide a creative and industry standard professional decorating experience that guides the client through the process of visually transforming their environment.
Our Vision
Leading the way in painting with only the highest level of quality, professionalism and respect.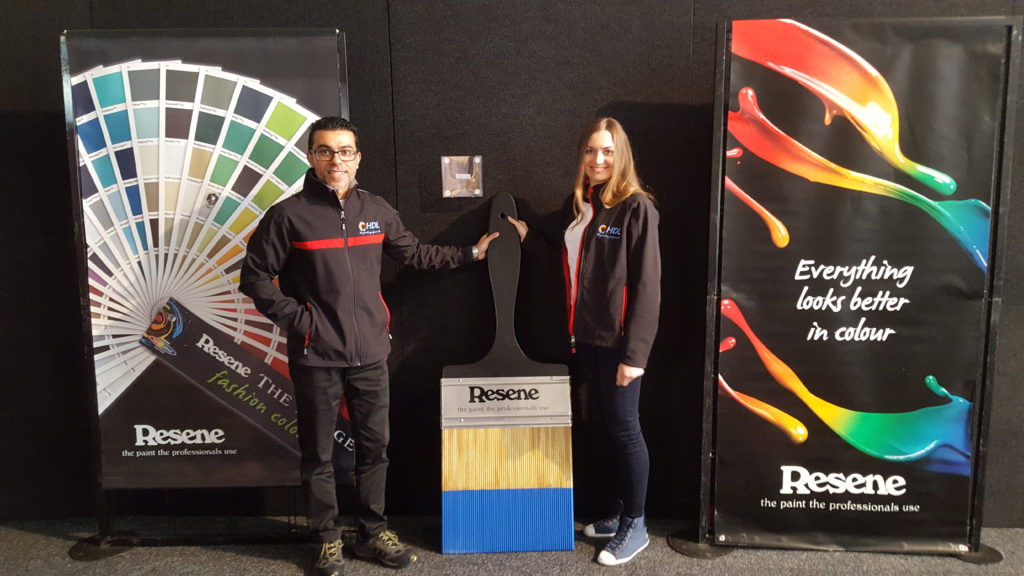 Current Owners
Sean Pravin and his wife Elena Kuznetsova have been carrying on as before with the excellent work ethic and attention to quality that has made HDL's reputation today. Sean is a qualified Business and Engineering graduate from UK and brings with him over 15 years' experience in both Project and Business Management. Sean fully understands the work principles and project management processes involved in successfully completing projects whilst adhering to strict Quality Standards and Best Practices. This allows Sean to view jobs from a client's perspective.
It is the great team of long-term, dedicated craftsmen painters and wallpaper hangers that are the core of HDL today, and why clients keep returning to HDL for their decorating needs.
Our message "Belief in finding outcomes that positively respond to problems as they arise create a positive environment within which we can all enjoy the ultimate delivery process."
Health and Safety
Workplace health and safety is ingrained in the culture of HDL. HDL is committed at all times to uphold the requirements of the Health and Safety at Work Act 2015 (HSWA) and implements firm health and safety procedures. HDL goes to great lengths to ensure the product it supplies and the materials used are selected to provide the safest and healthiest solutions for our clients. All crew and sub-contractors working for HDL at all sites are trained and adhere to the HSWA policy.
Impeccable site safety record
Over the past seven years, HDL employees and its sub-contractors have had no serious injuries and no lost days from accidents or machinery failure. There have also been no environmental damage or pollution incidents. 
It is always the intention of HDL to achieve a high standard of health and safety for its team and clients.
Project Management
The Key is in the Delivery – By working closely with our partners, HDL's team of Estimator, Quantity Surveyor and Project Manager designs, plans, initiates, coordinates, executes and controls the work of a skilful team to achieve specific goals and meet specific success criteria. HDL offers project management services to eliminate the pain of our clients in dealing with multiple contractors; assuring projects are delivered on time and on budget.
Click here for more details on our Project Management Process.
Our Review
We have worked on the North Shore and over greater Auckland for over thirty years and have thousands of satisfied customers who we know would be happy to testify of the quality, efficiency and professionalism of our company. Taking pride in putting our customers first, we know if our clients are happy when we leave their job, they will express their satisfaction to others and they do with over 60% of our work being referral or repeat business.
Partnerships and Credentials
Authorized member of Site Safe;
Authentic Resene Eco.Decorator. This programme assures HDL is environmentally responsible and only approved paints are used. The programme requires to undergo rigorous assessment which includes principles in practice, sustainable work practices, waste management, project plans and project sign off processes;
Fully insured company with $5M in Public Liability.
Actively supports local charity groups and senior citizens. Its efforts help brighten many lives.