A quality interior plastering finish produces a smooth canvas for the final step of painting.  It is therefore crucial that plastering is performed by experienced professionals.  This provides you with the 'best finish'.
Our Gib stopping or interior plastering work is based on a three to five coat system; whereas most other companies use as few as two coats, while less expensive, the finished product is not as strong. We strongly recommend the use of paper tape or fibre fuse, which is specified by the Gib board and other plasterboard manufacturers and conforms to AS/NZS 2589:2007 "Gypsum Linings – Application and Finishing". It is often seen Gib stoppers and Painters use fibre tapes that are low-grade or poor-quality and its use is against trade standards and best practice as they have a high failure rate.
Base coats are extremely important and we use only high adhesive compound, as this forms a much stronger bond than alternative products or some other commonly used stopping compounds.
Once plasterboard is fixed to the wall/ceiling areas of your property, we will then discuss the finishing details to achieve the best possible finish. The typical finishes are provided below: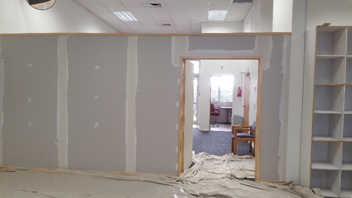 Finish Levels
'Levels of finish' define the quality required for flush-stopped joints in plasterboard, fibrous plaster and fibre cement sheets
Level 3 – Used in areas that do not require decoration such as above ceiling level
Level 4 – Generally, the most common finish for houses where light textures and wallcoverings, or flat or low sheen paint finish is being used in areas of non-critical light conditions.
(note: under critical lighting conditions (when the light source is nearly parallel to the surface), surface imperfections may still be apparent in a level 4 finish)
Level 5 – Where gloss or semi-gloss paint finish are specified or applied such as bathrooms, or where critical light conditions exist on non-textured flat or low sheen paints such as lounge with floor to ceiling windows and sunlight. To achieve a level 5 finish on plasterboard and fibre-cement, a thin skim coat is applied to the entire surface of the sheets. For fibrous plaster linings, the final compound application is trowel polished.
(note: some minor imperfections may be visible)
To learn more about Plastering Levels of Finish click here.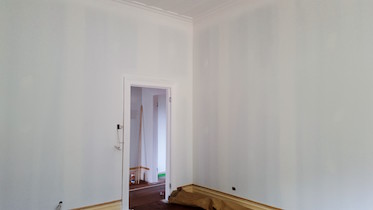 Reinforcing the joins to prevent cracking
To protect the plastered surface long term from cracking our specialist use only paper-based perforated reinforcing tape. This is applied using high adhesive plasters to ensure a strong bond and conforms to AS/NZS 2589.1
Wall straightness
Older homes often have framing deviations and are out of plumb. The skimming process provides a smooth surface in terms of texture. Wall Skimming does not create straight walls (even relining may not rectify framing deviations).  However, if there is a specific curve that is very visible because of its shape or its proximity to a straight object we can feather this out to minimize its appearance by thoroughly and adequately re-plastering.
Paper tape to redefine and reinforce internal and external corners
We may recommend paper reinforcing tape to create a defined line in internal or external corners. This strengthens corners and improves the visual appeal of the room. Where plasterboard or framing is significantly out of line we may also straighten the line to minimize the appearance of such a defect.
In some older homes rounded corner beads cover the corners, these should be removed or replaced before our gib stoppers begin work.